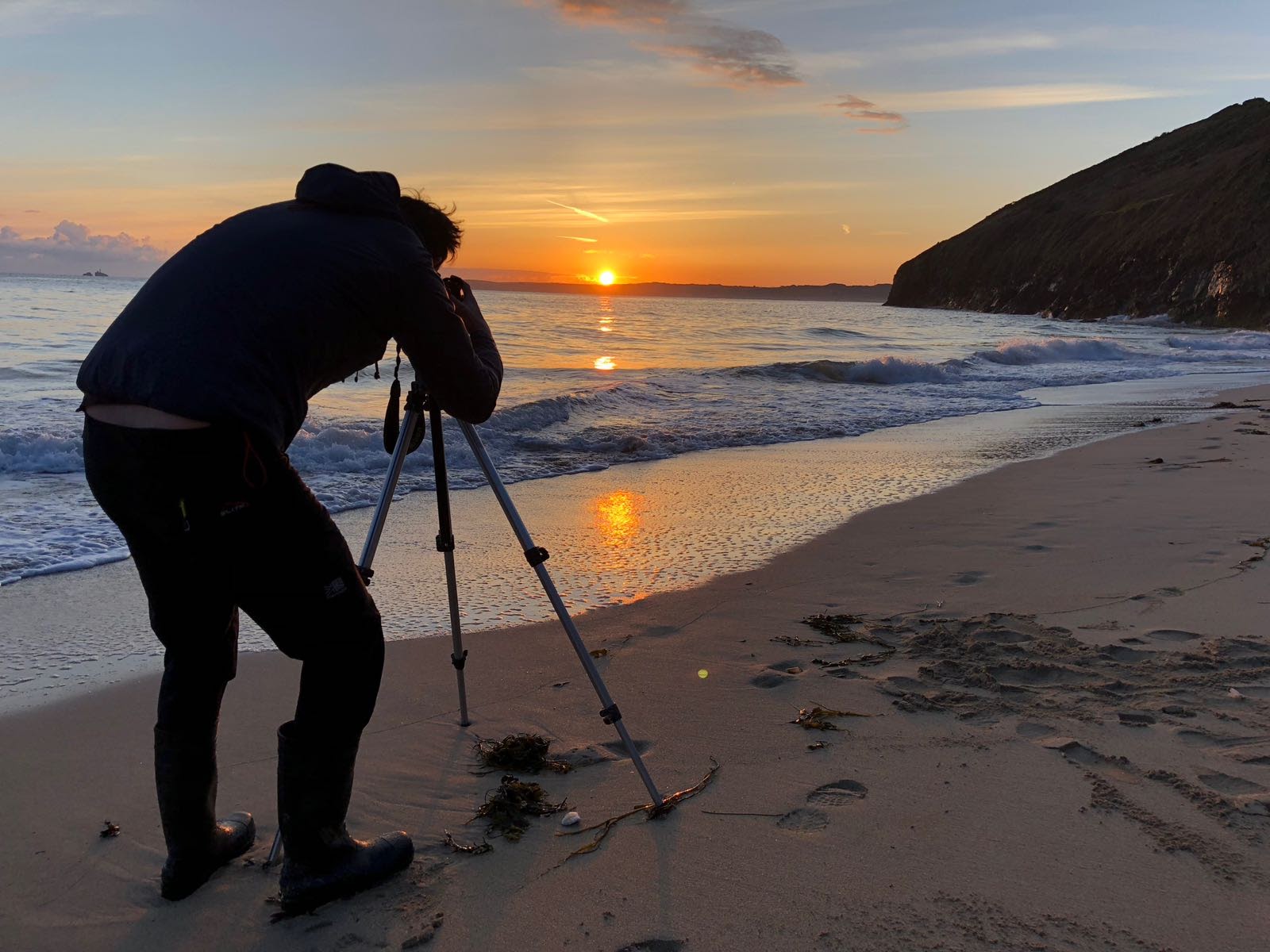 Tobi Carver // 23rd March
With the coronavirus situation here in the UK possibly about to 'lockdown' this article will hopefully give you some pointers towards one of the big questions in photography. By doing so hopefully it will give you some inspiration for when you are able to get out again with your camera.
Here at The Day That we get asked many questions. 'So is this really your job?'; 'Did you see that seal?' and Kieran's personal favourite, while on a shoot at Hawkes Point, 'You must be cold. Would you like a coffee?'.
A coffee?!!
Lucky bugger. Must be his boyish good looks.
However perhaps the most common question we get asked is … 'Are sunrises better to photograph than sunsets?'
Well as the UK – actually the world's – leading sunrise photography specialists (all modesty intended) here is our answer.
"Sunrises of course. Sunrise are far better than sunsets."
Right job done … That's was easy … time for a pint.
The serious answer though is it's all really down to personal preference, however, there are several things that do affect the shoot and the result you will get not least the different atmospherics at sunrise and sunset.
Sunrises of course mean you have to get up early, especially in summer. This might not be to everyone's taste. Sunsets are often a glorious riot of intense colour which people find stunning.
Sunrise shoots have the benefit of less people wandering around but are generally colder than the sunset shoots. However there is something magical about having the first footprints on the sand. 
The mornings are a time of crispness that the evenings aren't. Coming from one of The Day That's photographic team, living in a beautiful place surrounded by sea and able, within minutes of leaving their homes to be on any one of a number of beautiful beaches, such a comment might seem strange but …
Throughout the day pollutant particles caused by human activities are created and expelled into the atmosphere. At sunset these particles are airborne and create haze. Such hazes vary but act to diffuse the colours and clarity of the view. This is a much greater problem in built up areas but the effect can still be noticed even in the most beautiful and remote spots.
Overnight though these airborne particles settle back down to earth leaving the atmosphere much cleaner and rejuvenated by sunrise.
Sunrise shoots have the benefit of less people wandering around… there is something magical about having the first footprints on the sand. 
Here at the The Day That we don't use any filters or computer post-capture trickery on our sunrise images – we just don't think it is necessary. Every morning is unique and spectacular whether a dull drizzly one or a pure sunrise of stunning morning colours and that is what we aim to capture. However if you choose to you can use a polarizing filter to reduce the appearance of haze in your sunset image. If there is a fair amount of haze though there is very little you can do.
The light is vastly different as well between the two with sunrise light being a cooler temperature with more bluish tones due to the light not bouncing off atmospheric particles. As the dawn approaches and the sunrise the colours change but are equally as intense as the blue tones for the same reason.
The particles in the air at sunset actually cause the blue and violet tones to be reduced and be 'blocked' while the warmer visible light wavelengths, reds, oranges etc continue through to the eye and the camera. Of course this often means that sunsets have more colours that sunrises.
So, sunrise or sunset? Your choice – but I know which one I prefer …