A witness to Bill and Olivia's Engagement! 26th September 2020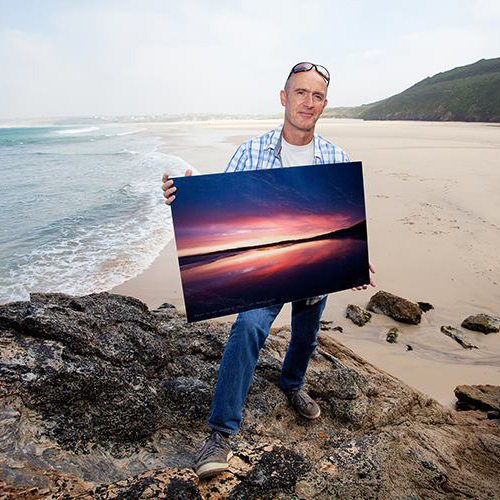 Gavan Goulder - 26th Sept 2020
For me, the day started like any normal day as a photographer for The Day That. An early alarm at 5.45am to do a weather check, some blue sky above, all is good. I sipped my tea as I double checked I had everything I needed for that mornings shoot before heading out. The tide was pretty low so I knew I could go to my favourite location, Porthkidney beach, always a stunning place to go when the conditions are right.
I walked the quarter mile or so to the beach, it's a lovely walk as you are always going in an Easterly direction, towards the sunrise, time to gather your thoughts. The road finishes and you have to carefully walk down a dark passage before getting to a railway track, the St Erth to St Ives line which is just about as pretty a journey as you could ever find anywhere in the world. You then have to snake down a muddy track before dropping down some steps onto Hawkes point, the cliff top above the beach. The view is breath taking but it was the beach I was after. Getting down is pretty tricky across rocks and you need good solid boots with decent grip. I had arrived……. Wonderful.
I set up my tripod and got to work straight away, wet sand reflecting the beautiful clear blue sky above, stunning. It really is a magical setting but for the actual sunrise I had to head back up to Hawkes Point.
As I climbed back up the rocks, I passed a small outcrop just below the cliff top and saw a couple taking selfies and enjoying the moment. I said a quick hello as I bounded up past them as I still need to get to the top of the cliff and the sun was almost up, perfect timing. I could see happy couple, bathed in the pre-dawn Orange glow. The stage was set…
The sun was up and over the horizon when I heard a loud shriek from bellow. The man was on one knee and his happy bride to be was holding his face with the look of pure joy. I quickly reset my camera and took some pictures thinking that they would want to see the very moment that they became engaged. I continued to get more pictures of the sun before dropping down to meet the happy couple and to show Bill and Olivia what I had captured, they were obviously thrilled!
I have to admit, I had a spring in my step and witnessing the moment brought back very happy memories of my own of the pure joy felt and the delight of phoning friends and family, telling them the happy news…… Such a wonderful moment to witness.
We exchanged a few emails afterwards and they were happy for us to publish the pictures out over social media. The response was phenomenal, connecting with people in such a happy positive way. Clearly some much needed positivity during these tricky times.
We decided the right thing to do was to send them a print personalised by Bill with "Sunrise on the day we got engaged – 7.13am – 26.09.20 – Porth Kidney Beach, St. Ives" a lovely memento of this special occasion.
Oh and the sunrise was pretty special also 💖